Richelle Arber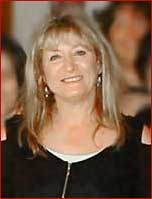 Richelle started Israeli dancing in Melbourne, in September 1992. Her passion for Israeli dancing started very slowly, as she was a self-confessed poor beginner. She did not dance for most of 1993, but returned to regular classes after a Chanukah party where she was exposed to Advanced level dancing for the first time. After that, her passion was ignited, and there was no stopping her! To gain dancing experience, she attended dance classes at all the Israeli dance clubs in Melbourne.

She has had experience teaching all levels of dancing for over 14 years. Since 1995, she has frequently travelled to Israel for the Karmiel Dance Festival as well as to New York, London, Chicago, Los Angeles, Miami, Argentina & Brazil, for various Israeli Dance Camps and Workshops. On each visit to Israel, she attends numerous dance sessions, throughout the country, led by different choreographers/teachers. In 2003 she attended and graduated from a 10 day Foreign Israeli Dance Teachers' Course held at Karmiel, Israel. It was a very small group of dedicated teachers & all of them excellent dancers, from the USA, Hungary, Czechoslovakia, France.with whom she was privileged to share teaching knowledge. Richelle was the 1st Australian teacher to complete the course. Since 2003, basically anyone who wants to attend Karmiel, are accepted in the Course In April 2005, Richelle was asked to conduct a workshop in Perth, Western Australia, where she successfully taught the appreciative group, (Hora Shalom)12 dances on her own. In July 2007, she once again gave a one day workshop in Perth, which was extremely well attended. In May 2009, Richelle once again was invited to conduct a workshop for Hora Shalom in Perth, teaching 11 dances (8 circles, 2 partners, 1 line) in 2 sessions on the one day. Once again, a very welcoming and large group of Perth dancers attended the workshops and all the dances taught were very well received. In the past, Richelle had volunteered her services to Jewishcare for over 2 years where she taught a very small but enthusiastic group of dancers on a weekly basis. She has recently also choreographed performances for Local Council events.In the late 1990's, Richelle was selected to become a member of "Shalom", a semi-professional & very disciplined performing group which regularly performed at Bar Mitzvahs, weddings etc. "Shalom" also performed on stage at the Melbourne Concert Hall for the Yom Ha'atzmaut Concert. She has also had years of experience performing as part of a dance troupe in various local community events such as "In One Voice", Glen Eira Council Park Performances, Bayley House, Emmy Monash and several others.For her own enjoyment and development of her professional skills, she has also attended courses in belly dancing, salsa, ballroom, Argentine Tango, Bollywood, and ballet classes. All of the skills that she has acquired at these classes, she uses to teach her students. From her many overseas trips to attend Israeli dance workshops, she has also gained a lot of knowledge & expertise on methods of teaching and conducting classes. That is why ZOOZ classes differ from all others.

She is very close friends with many Israeli dance choreographers and dance leaders (teachers) from various cities around the world, with whom she maintains regular contact.

Richelle has a special interest in teaching beginners in circles, lines and partner dancing. She has developed her own teaching techniques and methods, aided by her past experience as a tennis coach (as a hobby) and her understanding of human movement. These methods have proven to be tremendously successful when you see the quality of the dance students she has produced in a very, very short time.
She is totally dedicated and very patient with her students. All her classes are extremely enjoyable. Richelle loves to teach and loves to dance. You will feel it and see it when you attend any of her classes.