ZOOZ PINK RIBBON BREAKFAST INVITATION




Once again ZOOZ is delighted to host our annual PINK RIBBON BREAKFAST to raise money for the National Breast Cancer Foundation.


WHEN: Tuesday, October 20th, 2013 - 10.00AM until 12:45 PM
WHERE: Scout Hall, 2 Miller Street, Elsternwick (off Hotham St)

WEAR: Something PINK

WHAT: Fun.... of course!! Eize Keff!

COST: $5 (PLEASE NOTE: includes your dancing & your yummy & substantial breakfast! But does not include your donation! Please make a donation in excess of $5
It would help us considerably if you could please make your donation online prior to the event, (see below for link to the site) or you may make a donation at the event, if you prefer. (please copy & paste this link in your browser)
http://pinkribbonbreakfast.gofundraise.com.au/page/RichelleArber
Donations over $2 are tax deductible. You will be issued with a receipt. Please let us know in advance if you are gluten or lactose intolerant so that we can cater for your needs.

BREAKFAST WILL BE PROVIDED by ZOOZ. ( I am donating it) Just come along & enjoy!

AS WITH ALL ZOOZ PARTIES & EVENTS, WE CAN GUARANTEE THAT THERE WILL BE LOTS OF FUN!!!
THE DANCE REPERTOIRE WILL CATER FOR ALL LEVELS - ALL VERY WELCOME!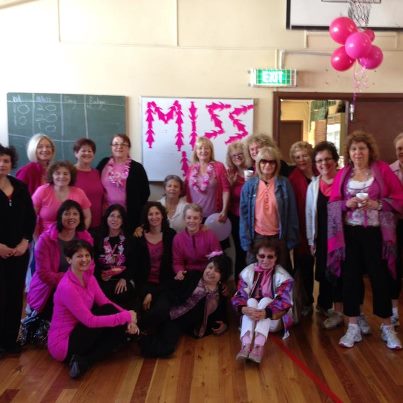 Let's get serious for a minute.......

Did you know - One in eight Australian women are expected to be diagnosed with breast cancer in their lifetime,

which means most of us know someone affected by it. That's why I need your help......

You can help me achieve my fundraising goal this year of $1,500 by making a donation.

I am very proud to tell you that since we started running a Pink Ribbon event a few years ago, ZOOZ has raised more than $11,000 towards this very worthy cause. You can make a secure online donation to the breakfast using your credit card by clicking on the link below.

It's quick and easy & it would mean a lot to me if you could give your support, even if you can't attend the breakfast. Just click on the pink box on the top right hand side of the page that

says "Donate now". You can donate any sum you wish. Just make sure you change it from the default to "other" amount.
http://pinkribbonbreakfast.gofundraise.com.au/page/RichelleArber
Please make sure you make your donation on behalf of "ZOOZ's Pink Ribbon Breakfast" so that your donation goes towards our target.

Wear something PINK!! C'MON GUYS! YOU TOO!! WE WOULD LOVE YOU TO GET INVOLVED!

The easiest way is to make donations online prior to the event.

There will also be a few Pink Ribbon goodies for sale on the day.

Together we can make a difference.

Thanking you in advance for your support!

If you have any queries, please email or call Richelle: or ph. 0416 137 554