ZOOZ ISRAELI DANCING
PINK RIBBON BREAKFAST REPORT
I am very proud to let you all know that we have so far raised $1,698, as a result of our very successful Pink Ribbon Breakfast held on Tuesday 8th October. We received over $1160 from online donations & the rest were from donations made either at the breakfast, or at various classes.
With the help of a few of my close friends, who don't dance at ZOOZ, I have now exceeded this year's target of $1500 - thank you so much!!



We had a great turn up at the breakfast, of mostly our own lovely ZOOZ dancers. (see below)

Unfortunately, not all the dancers who were at our Breakfast are in the photo!!

Thank you so much to everyone for your support for this very worthy cause. Most of you are regulars, & have come to the event every year. We always have a great time eating, playing games & dancing!!!
Seriously though, as I mentioned at the breakfast, every Pink Ribbon Breakfast saves one life. So together, dear dancers, we have saved a few lives!!! The money we have raised over the years (more than $10,000)has gone towards Breast Cancer Research. A very big thank you to those of you who have already made donations, or have bought some of the Pink Ribbon merchandise or knitted caps. Every little bit counts! I will be submitting the funds to the National Breast Cancer Foundation at the end of this month - this organisation raises money from the community for research into the prevention, treatment & cure of breast cancer. Their aim is that there will be ZERO deaths from breast cancer by the year 2030.

If you would like to make a small donation, from as little as $2, please do so at your next class, or you can make it online...... here is the link - https://pinkribbonbreakfast.org.au/events/view/t/300ae4msktn5/zoozs-pink-ribbon-breakfast - just press on DONATE NOW in the top right hand corner.
I would like to mention that there were a couple of anoymous online donors for our breakfast . Please let me know who you are so I can personally thank you for your generous donations!!!

I also have a few pretty knitted & crocheted caps for women & children left to sell for $10. They were made by my friend Alida Segal, who is herself a breast cancer survivor. Alida has told me that she is happy to make your own cap, if you provide your own wool, in any colour you wish & she will make it for you for only $5, which will be donated to the National Breast Cancer Foundation of course!!

Please ladies, let me once again remind you to give yourselves regular breast self-examinations, and have mammograms every year or 2 (depending on your age)

I would also like to express my very deep gratitude to my helpers, Annette, Ariella & Fay, who stayed behind very late last Monday night after the class, to help me decorate the hall; to Belinda, Annette, Colette, Helen G, Margot F for helping to prepare & set everything up on the tables, as well as staying behind to clean up afterwards. And to Caryn, Hanna, Jack & Suzy, Cindy & Margot P for also helping with the clean up. I hope I haven't left anyone out....I truly appreciate everyone's efforts to help, but I may not have been aware that you did!! So if I didn't name you, my apologies!
Special thanks to Deborah Stone for once again making some yummy bircher muesli - a very big favourite at our breakfast!!! Thanks Colette & Annette for your lovely cakes too. Very much appreciated!
We had an abundant assortment of breakfast foods - from cereals, muesli, all kinds of fruit, different flavoured yoghurt, bagels, raisin toast, jams, peanut butter & vegemite, scones with jam & cream, muffins, cup cakes , variety of vegetables & dips, & some banana bread & cake. We catered for kosher, lactose intolerent & gluten free as well! There was something for EVERYONE! And all for only $2.......yes only $2 to cover the humongous breakfast we provided! (Your entry fee of $12 covered only the 2.5 hrs of dancing & the breakfast. It did NOT include your donation. I'm not sure if you were all aware of that :)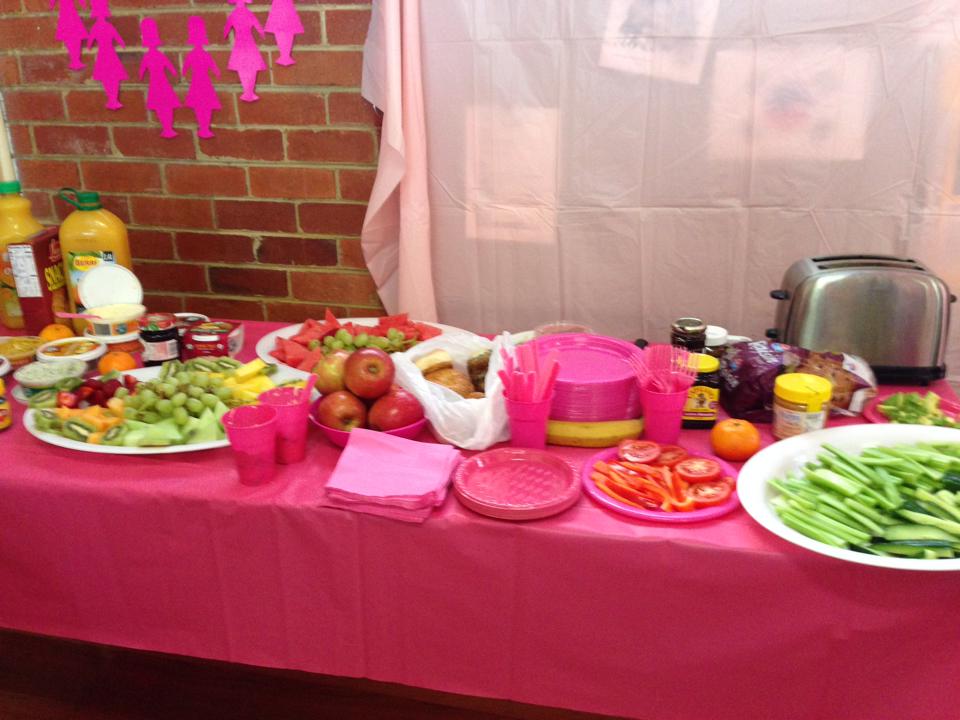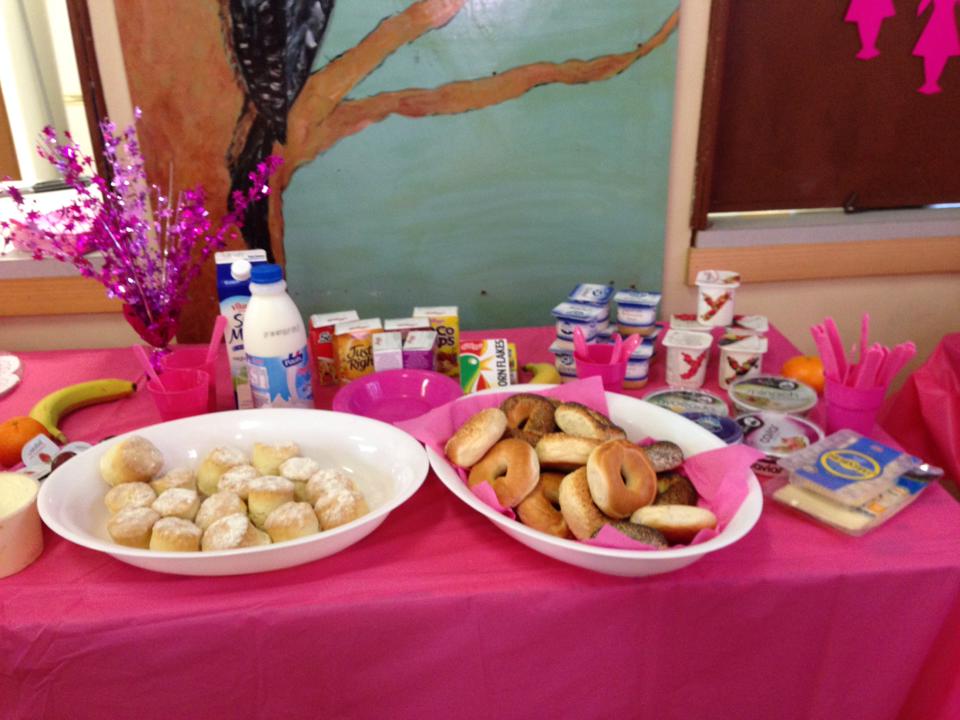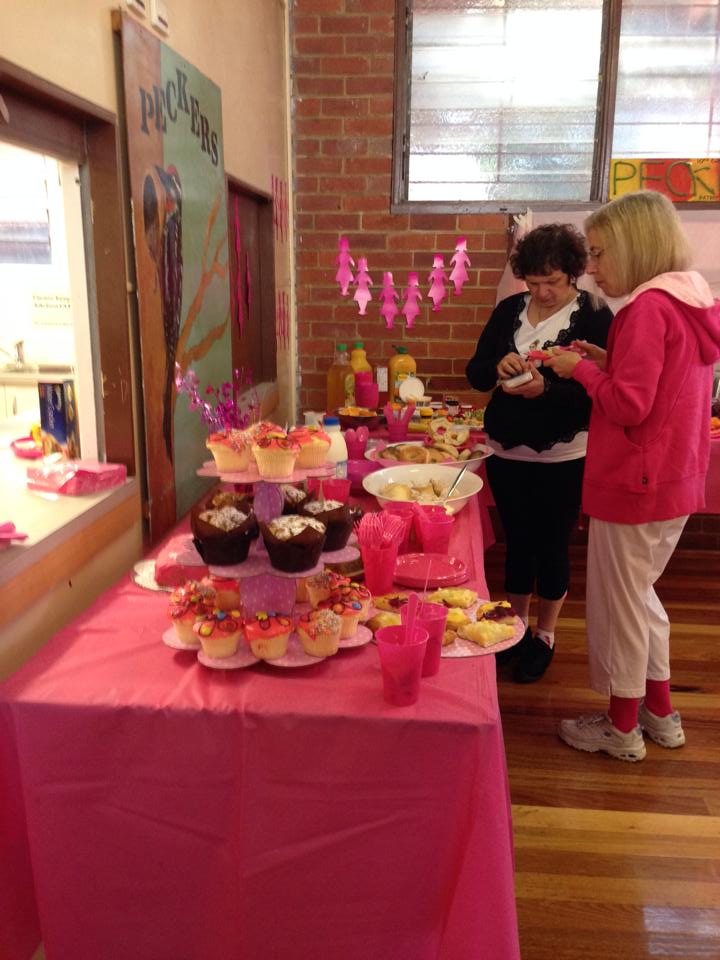 So now that we have almost completed our Pink Ribbon donations, I am turning my thoughts to the gorgeous men in my life!!
We are going to have our 2nd Annual ZOOZ "MOVEMBER" PARTY - on Thursday evening, 14th November.
We will be raising money for mens' health issues - in particular, PROSTATE CANCER!! Small donations will be very welcome either on the night, or at any of the classes, or online. I will send you a link in a few days time if you should want to make an online donation.
We will dress in something blue, & we will ALL wear a moustache!! Guys, you can start growing a mo from the 1st November, & of course you can shave it off straight after the party. (or even at the party if you wish!!) We will have a competition for the best MO!!! EVERYONE WELCOME!! Last year's party was a hoot!!! And we raised a considerable amount of money too!!!

One more thing, breast cancer is not confined to women only. So men, if you notice anything out of the ordinary with your nipples or breasts, please go see your doctor! It is so important for all you guys to have regular check ups too!!!

See you on the dance floor very soon - in continued good health!

**********************************************************************************************************************************************************************************************************************************************************************************************************************