Belinda Arber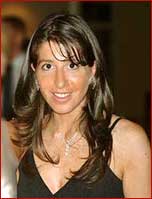 Belinda Arber (Richelle's daughter) has been teaching Israeli Dancing for 18 years. She 1st started Israeli dancing at the age of 21 whilst visiting Israel together with Richelle, & quickly became immersed in i!!. She & Richelle enjoyed the 3 day Karmiel Dance Festival in 1996.
Prior to the days of being a busy mum of three, she used to co-run the most highly successful youth classes for 18-35 year olds. For a few years she was running a highly successful specialist Israeli Dancing program for young children as part of the curriculum at King David and Bialik and has also worked as a consultant Music and Movement teacher for the Mini Maestros program at various schools and childcare centres.
Belinda has taken classes in various styles of dance including funk, hip-hop, jazz, bollywood, ballroom, salsa, classical and contemporary and has a general background in music, theatre, directing, performance and choreography.
She is a regular teacher at the ZOOZ Tuesday morning, Wednesday evening and Thursday evening classes.
Watching Belinda dance is an awesome experience!! She is definitely the BEST dancer in Australia & she also teaches extremely well! Her co-ordination & timing is simply brilliant. She is so graceful & elegant & we are so lucky to have her on our teaching staff. Belinda is a very dedicated and patient teacher, much loved by all her students.